#ID4A2019 ideas 5/10: Why it is Important Start-Ups have a Visionary Leadership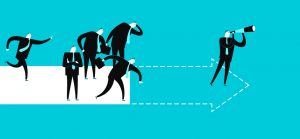 Why it is Important Start-Ups have a Visionary Leadership…
WhatsApp is going through an interesting period that might lead to its death, if you consider what led to the demise of the first African messaging platform, Mxit. Are there similar cases African start-ups should be aware of?
In 2014, The Economist declared that Mxit was the third leading technology start-up in South Africa and the biggest social network in the African continent. The history of this African social network offers lessons for the global social messaging platform, WhatsApp.
Technology start-ups such as Mxit, MySpace and WhatsApp need a different management approach to keep them alive. This blog offers historical accounts which startups should value – in thinking of the type of leader that will allow platforms to be impactful.
Mxit history
Mxit was founded by Stellenbosch software engineer Herman Heunis through his company, Swist Group Technologies. The company focused primarily on the mobile telecommunications industry, developing software and providing system support.
In 2000, Clockspeed Mobile, a research and development division of Swist Group Technologies, developed a Massive Multiplayer Mobile game named Alaya. The game was SMS based and was not successful due to the high costs since GPRS was still not widely implemented.
According to Diphoko [3], in 2003 the game was reassessed and the Mxit concept was conceived by Herman that same year. Mxit evolved to become a major instant messaging player in the South African arena thereafter. In 2004 Clockspeed became independent and became Mxit Lifestyle two years later. Media giant Naspers acquired a 30% stake in Mxit in January 2007.
The relationship with Naspers did not last long and Mxit was acquired by Alan Knott Craig jr after Heunis acknowledged that he was better suited to starting technology companies than managing big businesses.
It seems thereafter everything went south with Mxit afterwards. According to Diphoko, WhatsApp is currently going through a similar experience.
MySpace history
Media reports [1], with Myspace's sale on Wednesday to Specific Media for $35 million, a fraction of what News Corp. paid for the social network in 2005, it might be difficult to remember the influence that the now-struggling site once had on our lives.
Since its official launch in 2004, Myspace has played a role in social events like political scandals and was even central in grisly murder cases. At the same time, the site minted internet celebrities, launched musical careers and helped inspire an entire industry based around web 2.0.
In 2010, some of the headlines read something like [2]:
February 10th, 2010: "MySpace CEO is Out After Less than a Year"
February 11th, 2010: "MySpace CEO Van Natta steps down"
March 10th, 2010: "MySpace outlines makeover after exec shake up"
August 31st, 2010: "MySpace Hands Over Updates to Facebook"
October 8th, 2010: "Hey New MySpace Logo, New Gap Logo Has Some Words For You"
October 27th, 2010: "'New MySpace' narrows focus to entertainment"
November 18th, 2010: "MySpace's Facebook Mashup – Why Bother?"
November 19th, 2010: "MySpace surrenders to Facebook in battle of social networks"
MySpace has finished being a social network and a direct rival to Facebook, according to its chief executive, Mike Jones. …
Talking to The Telegraph at the Monaco Media Forum, Jones said the bold statement: "MySpace is a not a social network anymore. It is now a social entertainment destination."
WhatsApp history
The company was founded in 2009 by Brian Acton and Jan Koum, both former employees of Yahoo.
Koum started developing WhatsApp with friends after purchasing an iPhone and realising the potential of the app industry. He named the discovery "WhatsApp" to sound like "what's up".
In June 2009, changes at Apple had a positive impact on the development of a better version of WhatsApp.
Apple launched push notifications, allowing users to be notified when they were not using an app.
According to Diphoko, This led to further changes to WhatsApp as Koum updated WhatsApp so that when a user's status was changed, everyone in the user's network would be notified.
The second version of WhatsApp was released with a messaging component and the number of active users suddenly increased to 250000.
In October 2009, Acton persuaded five former friends in Yahoo! to invest R3.1 million in seed funding.
After months at beta stage, the application (WhatsApp) was eventually launched in November 2009 exclusively on the App Store for the iPhone…
By the end of 2013, the company announced that it had reached 400 million active users each month.
…In 2014 the WhatsApp was acquired by Facebook for R240.7 billion – the largest purchase of a venture-backed company in history.
According to Diphoko, Until now, life within Facebook has been great. But there are fears that WhatsApp may lose one of its key features – the encryption feature of the user privacy – following Koum's departure.
He was an advocate for encryption of the WhatsApp platform.
Lesson learnt?
The story of Mxit and WhatsApp offers important lessons for technology leaders on founder factor and the big business impact Heunis's departure from Mxit contributed to its demise. WhatsApp has just lost its founder and fears of negative changes at the company are already making headlines. Reports that WhatsApp may stop being an ad-free and secure environment for communication are extremely worrying.
In the business world, Diphoko concludes, founders are said not to be the best leaders of their companies. This view seems to be incorrect when it comes to some technology companies, think Apple and Steve Jobs exit. When he was forcibly removed the company suffered and recovered on his return.The Mxit and WhatsApp experience also shows that big money is not always good for some technology start-ups. Further growth impacts on value systems.
Technology start-ups such as Mxit and WhatsApp need a different management approach to keep them alive.
_
Wesley Diphoko is the founder of Kaya Labs. He serves as the chairperson of the IEEE Open Data Initiative (Industry Connections programme) in South Africa.
Follow him on Twitter for more insights on the Information Economy:
References:
[1] https://www.marketwatch.com/story/myspace-ceo-van-natta-steps-down-2010-02-10
[2] https://www.stepforth.com/blog/2011/myspace-timeline-history/
[3] https://www.iol.co.za/business-report/opinion/opinion-jan-koums-departure-may-be-killing-whatsapp-14775625?fbclid=IwAR1ksc3XGiDq7jYv7cdAJ4wDUO4kklsvicckLt9I6UOyKqFdDoi3ko1fncI