Cafe Conversation #ID4A2019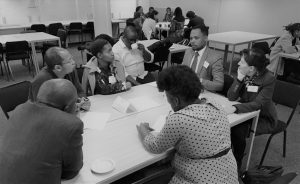 Conversation Cafés are open, hosted conversations in cafés as well as conferences and classrooms—anywhere people gather to make sense of our world. At a Conversation Café, there is nothing to join, no homework, no agenda, just a simple process that helps to shift us from small talk to BIG talk, conversations that matter.
Hosts are key to successful Conversation Cafés and we are here to make hosting easy, rewarding, and fun for #ID4A2019.
Using Digital Platforms for Supporting Research Collaboration  – Sam Mwapwele
Aim and Method: How researchers use websites for conference booking. Using Action Research on ICT4SA.com – cross-sectional (google analytics May 2017 – December 2018).
Platform: A learning and information sharing platform.
Considerations: In the development stages, it is important for both social and technical layers to consider why platforms are developed.
Example: Elgg is an open source social networking software that provides individuals and organizations with the components needed to create an online social environment. It offers blogging, microblogging, file sharing, networking, groups and a number of other features.
Gameful Design for Skills Development among Urban Poor Youths in South Africa  – Chinonye Obioha and Izak van Zyl
Aim and Method: explore techno-economic assumptions to assess skills shortages. The method used design anthropology.
Platform: In gaming, AI and robots could help with the deskilling for jobs in an uncertain future
Considerations: New innovation in gaming: AR, VR, cloud-based- gaming as Stadia, advanced AI in games
Critical Reflection on Instant Messaging as an eMentoring platform in Rural High Schools – Tendani Maumela
Aim and method: WhatsApp is largely used but not enough research shows its effectiveness in mentoring in South African school, no less rural ones. The methodology used was Critical Reflection on a sample of board group and mentor groups.
Platform: WhatsApp groups
Consideration: Signal is a cross-platform encrypted messaging service developed by the Signal Foundation and Signal Messenger LLC. It uses the Internet to send one-to-one and group messages, which can include files, voice notes, images, and videos.
Sustainable eLearning at Higher Education Institutions – Ayanda Deliwe 
Aims and Methods: Alarming the Higher Education and Training Dept. to eLearning challenges, is crucial for making changes in eLearning best practice
Platform: Non-technical support to incentivize that the end users (learners) use the platform appropriately
Considerations: The environment to get the chat and back end functions is an additional cost to the universities
The Effect of Culture on mHealth Acceptance for Diabetes Self-Management in the Western Cape – Mariam Jacobs
Aims and Methods: to determine the following factors (age, gender, income, and location) affect the acceptance of ICT for diabetes self-care in W Cape, from constructs by Venkatesh et al. (2014). The methodology adopted here is the theory of planned behaviour
Platform: Yet to be investigated
Considerations: Educational level would be an interesting demographical consideration from primary to postgraduates.
Impacts of Socio-Demographic Factors on the Acceptance in ICT for Diabetes Self-Care – Fazlyn Petersen
Aim and Method: determine how culture influence m-health acceptance and use of self-management amongst diabetic patients in previously disadvantaged communities
Platform: Continuous Glucose Management Device (mHealth)
Considerations: Sugar tax and mHealth solutions can help with self-management. Tech is self-management ubiquitously, but policy makes manufacturers lower sugar consumption in general
User Experiences of a City Infrastructure Fault Reporting Mobile Application: A South African Case Study   – Tokollo Noko
Aims and Methodology: Informal communities built the application themselves in terms of solving their own infrastructure fault reporting problem when the City of Cape Town didn't attend to frequent complaints. An external vendor tailored a mobile application solution for self-managed fault reporting.
Platform: Feature phones
Considerations: An MOU of who owns and what is done about the IP is important when many stakeholders are involved in the study.
Open Data Accessibility Mechanisms for Sustainable Tourism Development in SA – Siviwe Bala
Aims and Methodology: Travel agents, aviation agencies and municipalities are the best places for open data sourcing, yet there is none. There is scarcity in the sector for the tourist service provider to innovate and grow based on data, instead of sentiments.
The paper is to highlight the problem, not the possibility of existing data.
Platform: Example AirBnB as a US company, closes its IP for capitalist agenda for US economic interest, in a foreign land.
Considerations: Without processing and making local use of the data, it is harder for skills growth planning, and using insight necessary for tourism skills.
Risk is that spatial data is dangerous if there are people being stalked and if there could be certain restrictions in terms of what public open platforms allow.