#ID4A2019 ideas 2/10: Digital Inclusivity in Africa bridging the Digital Divide
ID4A is a student-led Cape Town-based symposium – for postgrad ICT4D Researchers.
Call For Papers!
Join Information Communication Technology for Development (ICT4D) peers from the University of Cape Town, the University of the Western Cape, Cape Peninsula University of Technology and Stellenbosch University at the #ID4A2019 for research collaboration and feedback.
Submit your 4-page abstract.
Digital Inclusivity
Read the two abstracts which can get #ID4A2019 Thinking About the Digital Divide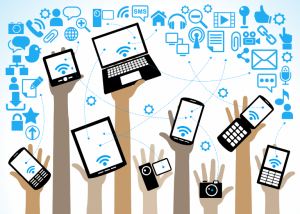 [1] Use of Free Public Wi-Fi and Telecentres in Disadvantaged Communities in the Western Cape
In thinking of the so-called Fourth Industrial Revolution, South Africa's education and skills development agenda should capacitate technology competencies. E-government in South Africa is at a formative stage and a snapshot of progress is taken by asking the 10 questions posed by the "Roadmap for E-government" writes Farelo and Morris (2018). There is a strong political will driving the vision and the readiness assessment discusses legal frameworks, governance models, infrastructure and human resource development as key success factors.
Moreso, Inclusive Capitalism [3]  is a term composed of two complementary meanings: (1) poverty is a significant, systemic problem in countries which have already embraced or are transitioning towards capitalistic economies, and (2) companies and non-governmental organizations can sell goods and services to low-income people, which may lead to targeted poverty alleviation strategies, including improving people's nutrition, health care, education, employment, and environment, but not their political power. Inclusive Capitalism has to be the aim, this can be achieved with capable e-government.
[2] The Status of E-government in South Africa
Telecentres have been the cornerstone of e-Government information and communications technology for development (ICT4D) programmes for addressing the digital divide and fostering economic development. A specific challenge for existing telecentre programmes is to establish what impact free public Wi-Fi (FPW) programmes have on the need for what the telecentres provide, what opportunities FPW provides to augment telecentres, and whether FPW at telecentres are a good use of public funds. To this end, this study explored the effect of FPW use on the behaviour of telecentre users through a survey undertaken at six government telecentres with nearby FPW facilities in the Western Cape, South Africa. The study shows that the activities undertaken by users at telecentres are similar to those using FPW. Although most smartphone users had used FPW at least once they were not frequent users of it. The most frequent use of FPW was observed to be for online banking and shopping than the telecentre computers. Further research is recommended to examine the finding of the limited use of FPW and to explore why telecentre users who are also FPW users prefer not to do online banking and shopping at the telecentre.
Do you have similar research?
Important ID4A Dates
Full Paper Submission deadline: 18 March 2019
Notification to Authors: 03 May 2019
Reference
[1] Farelo, M., & Morris, C. (2006). Status of E-government in South Africa.
[2] Jacobs, C., & Rivett, U. (2018). Definitions of e-Government: Identifying the Blind Spots. Development Informatics Association (IDIA 2018), 12, 55.
[3]O'Connor, Alice (2001) Poverty Knowledge: Social Science, Social Policy, and the Poor in Twentieth-Century U.S. History. Princeton, NJ: Princeton University Press.