#ID4A2019 ideas 3/10: Internet and mobile data in South Africa: No price drop in sight?
ID4A is a student-led Cape Town-based symposium – for postgrad ICT4D Researchers.
Call for Papers!
Join ICT4D peers from the University of Cape Town, the University of the Western Cape, Cape Peninsula University of Technology and Stellenbosch University at the #ID4A2019 for research collaboration and feedback.
Submit your 4-page abstract.
Perhaps you have vested interests in researching a ICT topic not listed in our themes…
Public engagement for lower data costs in South Africa.
To do this we're working to turn every cell phone into a democracy building tool so that no matter where you live; what language you speak or what issue you care about, you can take action with others.
amandla.mobi members from across the country come together at critical moments to take targeted, co-ordinated and strategic action to make real change. Their task is to connect you up with others, so that your voice has more impact and power to hold political and corporate interests to account.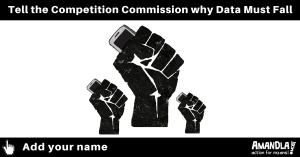 communications regulator ICASA has published draft regulations that, if implemented in final form, will prevent networks from expiring users' data for up to 24 months [4]. And now the Competition Commission has launched an Inquiry into the high price of data [5]. For three years our community has fought for justice in many ways. Today, let's once again come together to demand that the Competition Commission acts to ensure that network providers don't profiteer on the backs of those who can only afford the smallest data bundles.
Video: Why it is important that there is a value for getting the 77% of Africa's youth and future of work online
Do you have similar research?
Lets talk via Facebook or Twitter
Important ID4A Dates
Paper submission deadline: 18 March 2019
Notification to Authors: 03 May 2019
Reference
DW Africa. (2019, February, 18). Internet and mobile data in South Africa: No price drop in sight? https://www.youtube.com/watch?v=EiKudjopDGk&feature=push-u-sub&attr_tag=QiWDgyvcGKiMD_6-%3A6
amandla.mobi (2018) https://www.amandla.mobi/data-inquiry
[1] https://medium.com/jamlab/why-data-must-fall-for-the-less-connected-to-be-more-connected-7b6aae491e23
[2] https://theconversation.com/internet-freedom-why-access-is-becoming-a-human-right-59125
[3] http://www.fin24.com/Tech/Multimedia/data-prices-how-sa-compares-to-the-rest-of-the-world-20160930
[4] https://techcentral.co.za/icasa-drops-data-expiry-bombshell-operators/76204/ [5] https://www.iol.co.za/business-report/the-competition-commission-launches-data-market-inquiry-10848476