#ID4A2019 ideas 4/10: How Africa could Bank for Socioeconomic Devlopment
Mobile Banking and Why It's Growing in Africa
Infomineo believes in the potential of Africa and the Middle East. Infomineo provides businesses with research and insights, allowing them to make decisions and develop their activity.
Mobile banking allows its users to conduct financial transactions through mobile devices such as smartphones, wearable devices, and tablets. It is a service offered by banks and other financial institutions that allow users to obtain account balances, pay bills and transfer funds on their mobiles. However, [1] mobile banking is different from mobile payment. Indeed, the latter is a service that allows users to pay for a product or service using a mobile device.
Enabled by a wide array of wireless and mobile technologies, a new form of electronic commerce, "mMobile eCommerce", is gaining growing attention from both business and academic communities [2]. Proliferation of mobile commerce, especially in the business-to-consumer sectors, require ubiquitously available, globally accepted, easy-to-use, and secure methods of payment. Mobile payment (mPayment) entails making payments using mobile devices including wireless handsets, personal digital assistants, and other radio frequency (RF) and near field communication (NFC) based devices. While mPayment is still in its infancy, its acceptance is expected to increase exponentially in the coming years.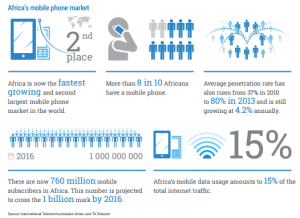 Fig. 1 – African Mobile Phone Market
Mobile banking in Africa
*Higher than everwhere in the world
Mobile transactions and payment in Africa
*Feature phone e-commerce capacity has increased
Mobile phone and internet penetration in Africa
Having participated in a survey from an Information Systems Masters student at the University of Cape Town. The following questions drew food for though guiding this blog. We encourage readers to Tweet or by joining the Facebook discussion on the following:
What are the most and least contributing factors to a customer's mobile banking experience?
Mobile Banking has to be easy to use because there is no time nowadays to queue up at the physical bank. Also, Standard Bank is a solid brand, they market themselves to fund forward thinkers like myself. They report irregularities before I can even notice it. Also the fingerprint security with a backup password gives me peace of mind.
What will be a good customer experience in your opinion when using mobile banking services?
When the app recognizes ones spending habits as unique user trend patterns and recommends ways in which you could save. For example, Discovery's behavioural banking incentivises customers to save, invest and live within their means to improve long-term financial health. Next level innovation.
What will be a bad customer experience in your opinion when using mobile banking services?
The trouble with FICO and the credit rating system in a highly industrialised – yet socially underdeveloped nation like South Africa is that it considers more where debtors' are financially Now- Not advising and guiding where they can be later. Also, Bank tellers (humans) are sometimes dismissive if you don't look 'affluent enough' which adds to why digital banking education can help marginalised debtors prepare for a better banking system. I have to credit Capitec for Filling this gap in the market but they have too few ATMs. The SA economy (the informal more, than the formal sector) still heavily relies on cash money instead of innovations such as SnapScan or even cryptocurrencies as a widely viable alternative.
How does your experience as a customer influence your loyalty towards your mobile bank?
The human contact at the various branches. The frequent SMS notifications of what might interest a young user such as myself. The more personalized the digital banking service is the better.
What factors will drive you to be loyal to an organisation that provides mobile banking services?
First of all the security of my money is paramount, else I would just keep it under the mattress. International Banking and Investment. Stanlib for instance According to their website, Stanlib's investment professionals are focused on the future and cover a wide range of asset classes both locally and offshore – from active to passive asset management to single and multi-manager solutions. Their insights and experience (through Big Data) help make better-informed decisions for the future that enable customers to achieve their financial goals.
New Mobile Payment Disruptors in South Africa
mPesa:
Zapper:
Firepay:
Yoco:
Party Platters Caterer:
OfferZen:
PayU Payment Solutions:
Fitbit Pay:
Samsung Pay:
Samsung Pay uses Near-Field Communication (NFC) and Magnetic Secure Transmission (MST) technology to facilitate payments on POS terminals, removing the need for you to carry your bank card around after you have loaded it onto your smartphone.
Which devices are compatible with Samsung Pay? You can use Samsung Pay if you have one of the following Samsung devices: Galaxy S8, Galaxy S8+, Galaxy Note 8, Galaxy S7 Edge, Galaxy S7, Galaxy S6, Galaxy S6 Edge, Galaxy S6 Edge+, Galaxy A5 or newer. Notably this covers old smartphones, but more importantly newer feature phones too – understanding that more users cannot afford premium phones such as the 2019 release of the Galaxy S10 and Galaxy X phones.
Apple Pay:
Apple Pay is easy and works with the Apple devices you use every day. You can make secure purchases in stores, in apps, and on the web. And you can send and receive money from friends and family right in Messages. Apple Pay is even simpler than using your physical card, and safer too. Furthermore, according to the Apple site: Apple Card is the newest way to pay with Apple Pay. It's built on the principles of simplicity and transparency. It actually encourages you to pay less interest. And it gives you a whole new level of security and privacy.
On the other hand, South Africa is yet to introduce the Apple Pay system. The American based company as opposed to the South Korean Samsung, focuses more high-end niche user base, within a closed business-model spearheaded by an in-house iOS focused approach, as opposed to being Google Android reliant like all other manufacturers (except the very small Microsoft, Windows Phone market).
In the 2019 first quarter, Apple Pay does not include South Africa in this system, and no other African state either. But to be fair Samsung Pay officially launched in South Africa in August 2018, offering Absa and Standard Bank clients the ability to use their smartphones to make card purchases.
Huawei Pay:
Wallet at your fingertips Huawei Pay is an easy and secure way to make payments with your Huawei or Honor device. Add your bank cards to Huawei Pay to pay in stores with just a tap. At the moment the only supported banks for the Chinese manufacturer are two major Russian banks, the site say with more banks coming soon. Huawei announced that their payment system is now coming to South Africa later in 2019. Apple is getting left behind…
New Banking Disruptors in South Africa
The study looked at the level of satisfaction of customers of the big six retail banks – Capitec, FNB, Nedbank, Absa, Standard Bank and African Bank – and predicted 2019 would be a watershed year for the sector as traditional banks face intense competition from Discovery Bank, Bank Zero and TymeBank.
Discovery Bank:
Bank Zero:
TymeBank:
Final Thought
At the beginning of the 2019 second quarter, South Korea's launched a national fifth-generation wireless services is about more than just bragging rights. This is big news because by beating the U.S. and China to the punch, it provides a major selling point for Samsung Electronics Co. against Apple Inc. in premium smartphones and Huawei Technologies Co. in the market for mobile network gear. It provides a chance for South Korean companies to show off their know-how and lay the groundwork to set standards and capture sales in a global 5G services market expected to grow to $123 billion by 2025.
Considering that the South Korean giants are not as South African market phobic as the Americans, this is great for the future of mobile banking in South Africa. Commercializing 5G also gives Asia's fourth-largest economy the opportunity to build around the technology, which promises speeds dozens of times faster than earlier generations. That includes the development of autonomous driving and the Internet of Things.
References
[] Digital Banks for personal banking in SA https://www.iol.co.za/personal-finance/digital-banks-are-hungry-for-your-business-20399634
[] iOS Feature Availability https://www.apple.com/za/ios/feature-availability/
[] How to set up and use Samsung Pay in South Africa https://businesstech.co.za/news/industry-news/279023/how-to-set-up-and-use-samsung-pay-in-south-africa/
[] Cashless made effortless https://www.apple.com/apple-pay/
[] Dewan, S. G., & Chen, L. D. (2005). Mobile payment adoption in the US: A cross-industry, cross-platform solution. Journal of Information Privacy and Security, 1(2), 4-28.
Do you have similar research?
Determinants of Mobile Banking Adoption in the Ghanaian Banking Industry: A Case of Access Bank Ghana Limited
Agbemabiese George Cudjoe1*, Patrick Amfo Anim1, Joseph Gerald Nii Tetteh Nyanyofio2
The results from the study revealed that each factor measured had some level of significant effect on consumer intention to adopt and use mobile banking services provided by Access Bank. Additionally,
the study unveiled that, perceived credibility and perceived financial cost was the major setback
with regards to customers adoption of mobile banking services provided by Access Bank, and as a
result of this, Ghanaians have formed a negative behavioural pattern towards mobile banking. In
addition, the findings showed that perceived credibility and perceived financial cost have a
stronger effect on consumer intention to adopt and use mobile banking service than perceived usefulness and perceived ease of use.
The impact of social and cultural factors on the adoption of technology still requires much research. To investigate it more fully, we examine the reasons for the adoption and non-adoption of mobile banking in Ghana. Through a survey of 271 people in Ghana, it has been found that social and cultural factors in the form of perceived credibility, facilitating conditions, perceived elitisation and demographic factors do play a significant role in adoption decisions. It has been found that elitisation of technology and services can be a positive influence for adopters whilst being a negative influence for non-adopters. In addition, perceived credibility and facilitating conditions also influence attitudes towards the technology.
Full Paper Submission deadline:  
Notification to Authors: 03 May 2019
Reference
[1] Mobile Banking and Why it's Growing in Africa. Retrieved https://infomineo.com/mobile-banking-and-why-its-growing-in-africa/
[] An adoption model for mobile banking in Ghana citeseerx.ist.psu.edu/viewdoc/download?doi=10.1.1.923.6460&rep=rep1&type=pdf