Abstract Submission Date Extended
Great News for Postgraduate ICT4D Researchers!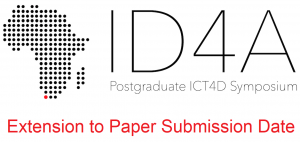 We want to acknowledge the students who have already submitted their paper to iD4A2019 EasyChair account in advance of our March 4th, 2019, deadline.
Thanks so much to you all!
We have received many requests to extend the deadline for paper submission. As a result, the iD4A2019 program committee has decided to extend the final deadline for the Call for Papers.
Submissions are now due no later than Monday, March 18th, 2019 (23:55 GMT+2).
We hope this will give those who require it, additional time to finalize their papers. iD4A2019 submission instructions can be accessed here. The paper can be submitted online here. Applicants will be notified of acceptance by May 3, 2019.
We hope you will take advantage of the extended deadline to submit your paper. We look forward to hearing from you!
Regards and thanks,
iD4A2019 Program committee